Search Pace
Search Pace
Search Pace allows you to control the quantity of prospects delivered on a weekly basis, and enables you to define the point in a search where you're ready to "turn down" - or off - the volume. Usually, this is where you have garnered enough interested prospects to confidently forecast that a hire will be made from within the "interested" group.
Improved backend processes are supported by industry-focused teams, so there's no need to sacrifice quality for quantity! We've made sure that your feedback is front and center and incorporated into the calibration of your candidate batches, all with the goal of making each batch better than the one that came before it.
Search Pace control allows you to:
Define your goals per search - By focusing on Interested, Contacted, or Good Fit candidates, you can work back from the goal and plan your workload accordingly.
Improve and control the time you spend reviewing profiles - If you want to hire quickly, we can help by pumping volume to you; but if you're at capacity, you can shift into a lower gear.
Set limits - Nobody likes wasted leads, so tell us when to hit the brakes by defining your "on hold" thresholds.
Control your top of funnel - You determine the volume at the top of your funnel, and let Fetcher get you there in record time.
How does it work?
Set the Speed
When starting a search, select the target quantity of profiles you want delivered per week.
Your options span between 10-100 profiles. Note that, based on our data, most searches are able to be closed once connection has been made with ~10 interested candidates.

Set the Goal
When should Fetcher put your search on hold? Set a goal - whether that goal is a quantity of prospects who have been contacted, a number who have been vetted as "Good Fit", or even a number who have responded as interested. Once this goal is met, Fetcher will hold the search, stop delivering profiles, and notify you that your goal has been achieved.
Selecting an On Hold status is required for searches requesting more than 20 leads per week, and optional below that threshold.
Statuses:
Interested
Responded
Contacted
Good Fit
Unvetted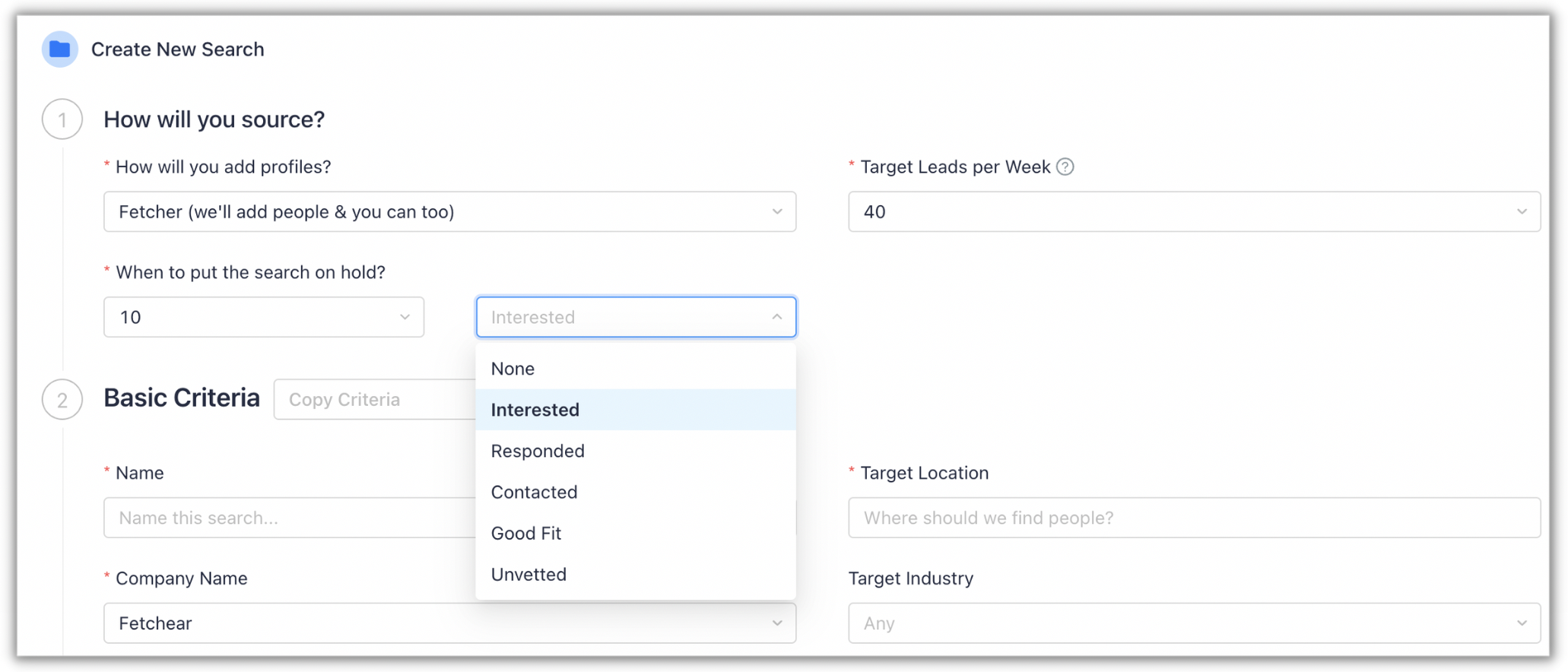 Controlling the Search
After your search has started, you will still be able to edit both the Leads per Week and On Hold settings. Simply edit the search by visiting the Search > Edit Settings > View Search Criteria > Edit Criteria.
Cadence
Delivery cadence - or the amount of profiles you can expect to see delivered daily - depends on your requested weekly volume. The below chart illustrates the batch delivery schedule at the requested quota: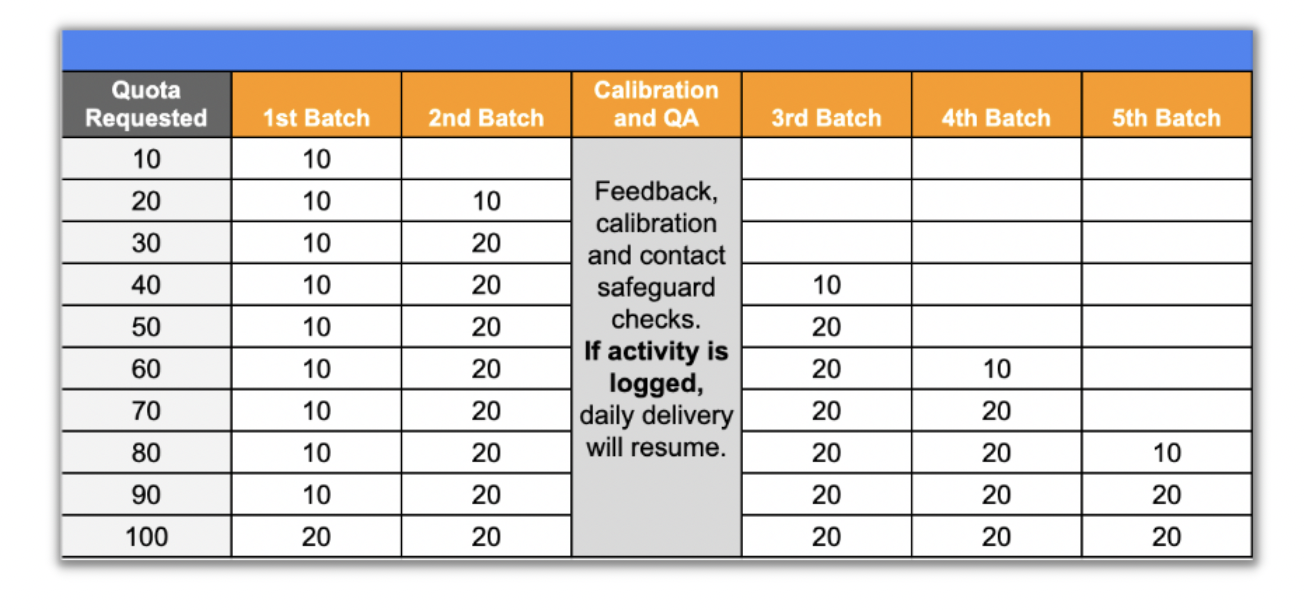 Automatic Search Hold - To safeguard your search against the over-delivery of profiles for positions without any calibration, continuous delivery at high volume (30+ per week) is only done on searches where you have given feedback (i.e. comment, thumbs up/down, tags, etc.). This feedback is incorporated into the search, ensuring that the search is trained and continuously improves the quality of candidate batches that are delivered.
Required Calibration
As noted above, high delivery (30+ profiles/week) comes with the risk of receiving initial candidate batches that hit the target, but could use some training to be consistently precise.
This is why high delivery comes with calibration checks after two batches.
To ensure that batch delivery remains uninterrupted per your requests, please make sure you provide feedback on your prospects. If you forget, we'll put your search on hold and contact you!
What Setting is Best For You
Search Pace allows you to prioritize and control how quickly you arrive at your goal. Some factors to consider in selecting a pace:
Time available to review profiles

- on average, it takes less than 30 seconds for a profile to be vetted, liked or disliked, and added to a contact sequence.

Urgency of the search

- if you have a priority search, volume matters.

Effectiveness of your emails

- your templates have an immense impact on open, response, and interested rates. Take a look at your previous passthrough rates to determine how many active conversations you will run at any given time based on volume.

Conversational capacity

- Fetcher makes starting conversations a breeze, but consider your calendar to avoid any bottlenecks.
Pro Tip - Choose a pace that keep your plate full, and ensures that you have the option to accelerate your efforts and manage your time, without becoming overwhelmed.
---
---