Getting Started
Getting started on Fetcher is super easy! This article talks you through our set-up flow and where to go to next.
Let's get you set up!
The first step is your welcome screen, which looks like this: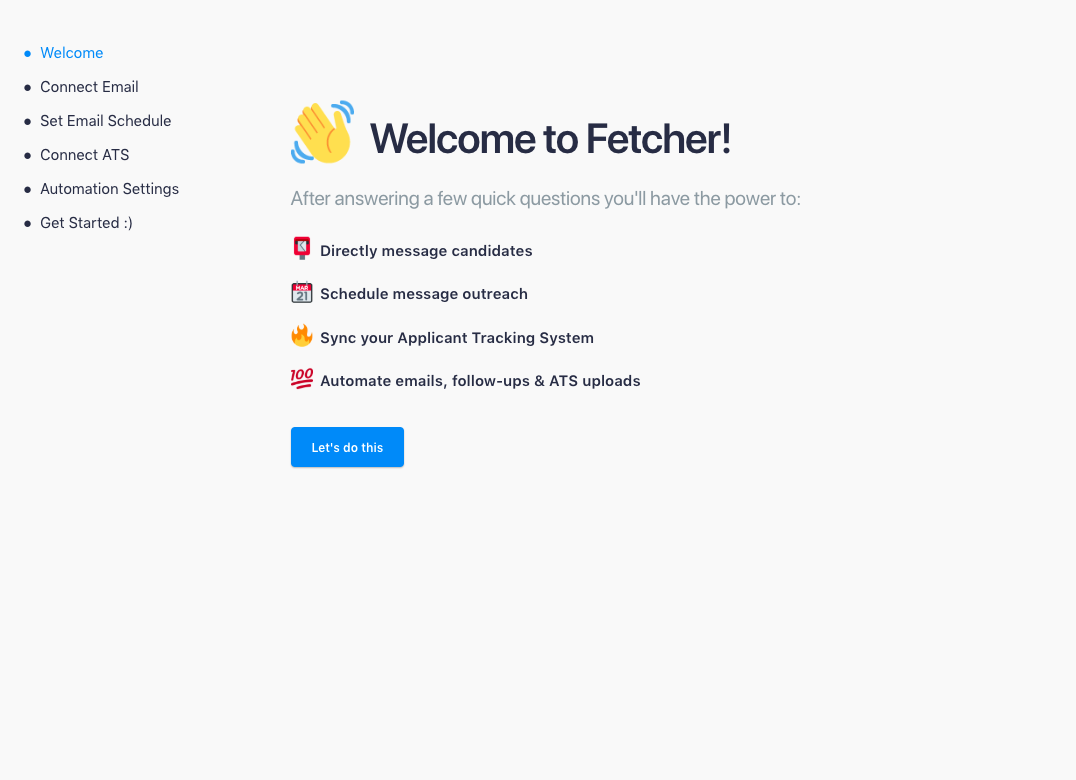 Go ahead, and click on "Let's do this".
Connecting your email
The next screen allows you to connect your email.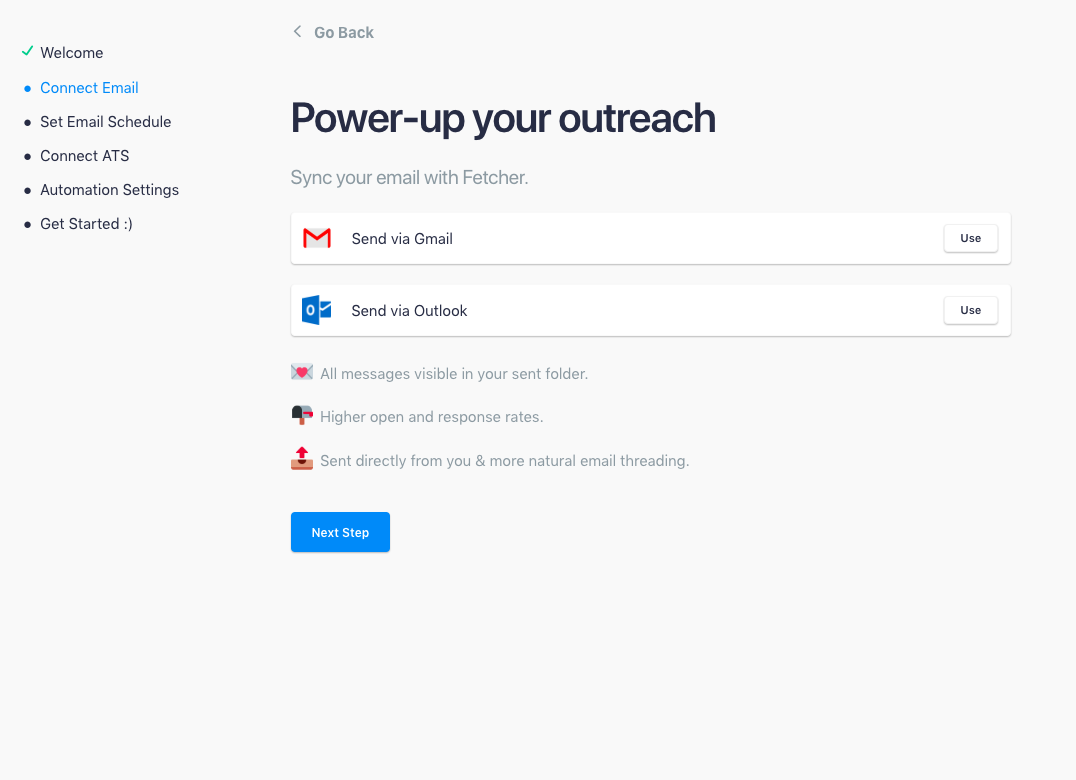 If you use Gmail or Outlook 360 as your email provider, we recommend that you sync your email. If so, click on "Use" and follow the instructions. If not, or you don't want to, simply click on "Next Step"
Setting your email schedule
One of the great features or Fetcher is our email sequence. We make it super easy to reach out to people using three touchpoints (more on writing your templates later - and don't worry, if someone replies we won't send them anymore email), and this is where you set that schedule.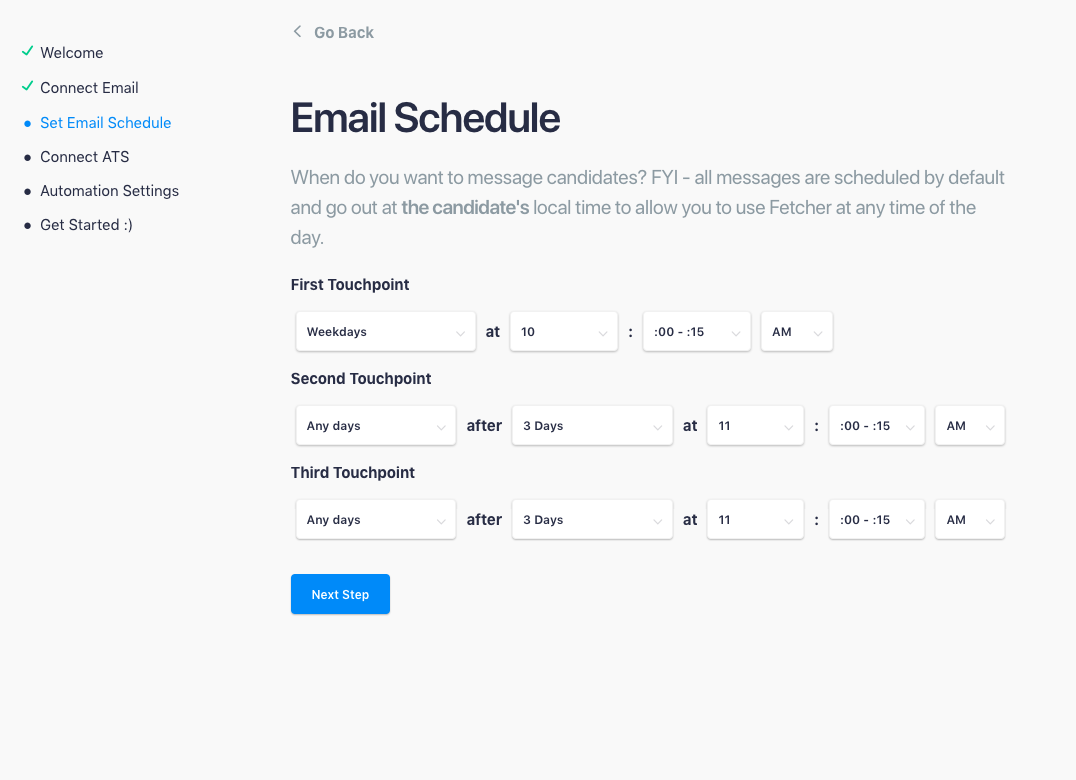 We've picked these defaults based on when we've seen people open their emails, but feel free to tweak them as you see fit. And, like any of the settings you set during this process, you can always go back and change them later. Once these look good, click on "Next Step".
Connect your ATS
If you use an ATS that we support, you can go ahead and connect it here.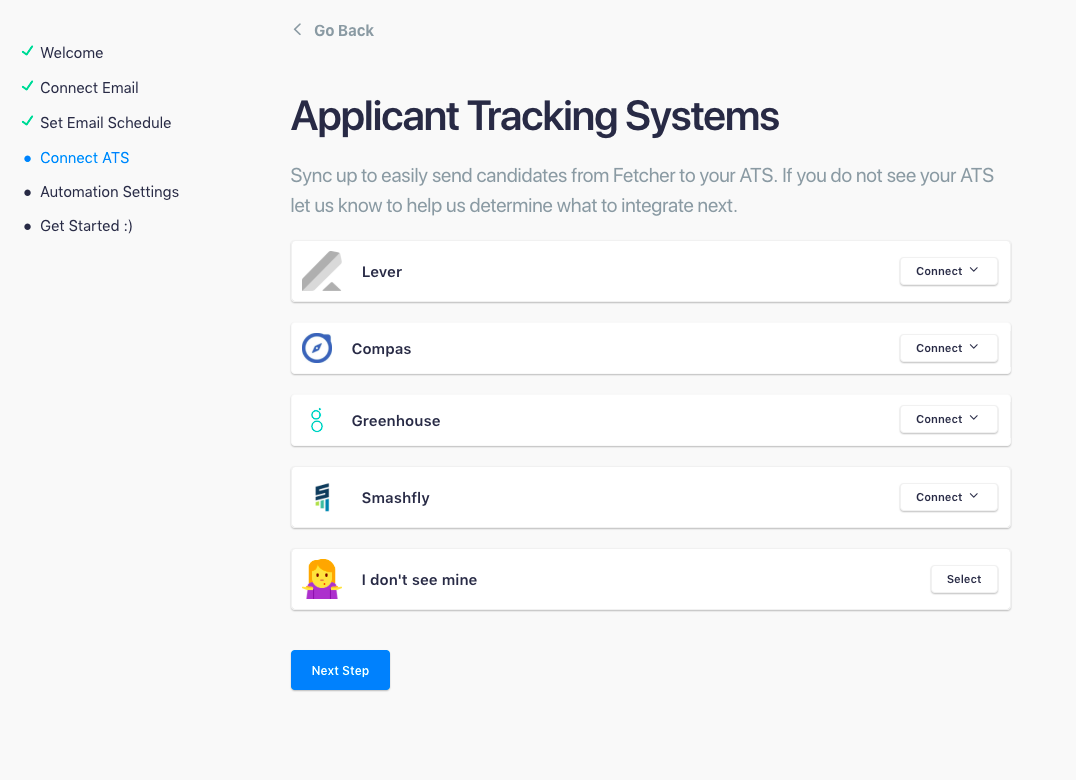 Click on "Connect" next to your ATS, and follow the prompts.
If asked for credentials, please make sure you provide the credentials you use to log in to your ATS.
When done, or if you don't see your ATS, click on "Next Step"
Automation Settings
This is where the magic happens...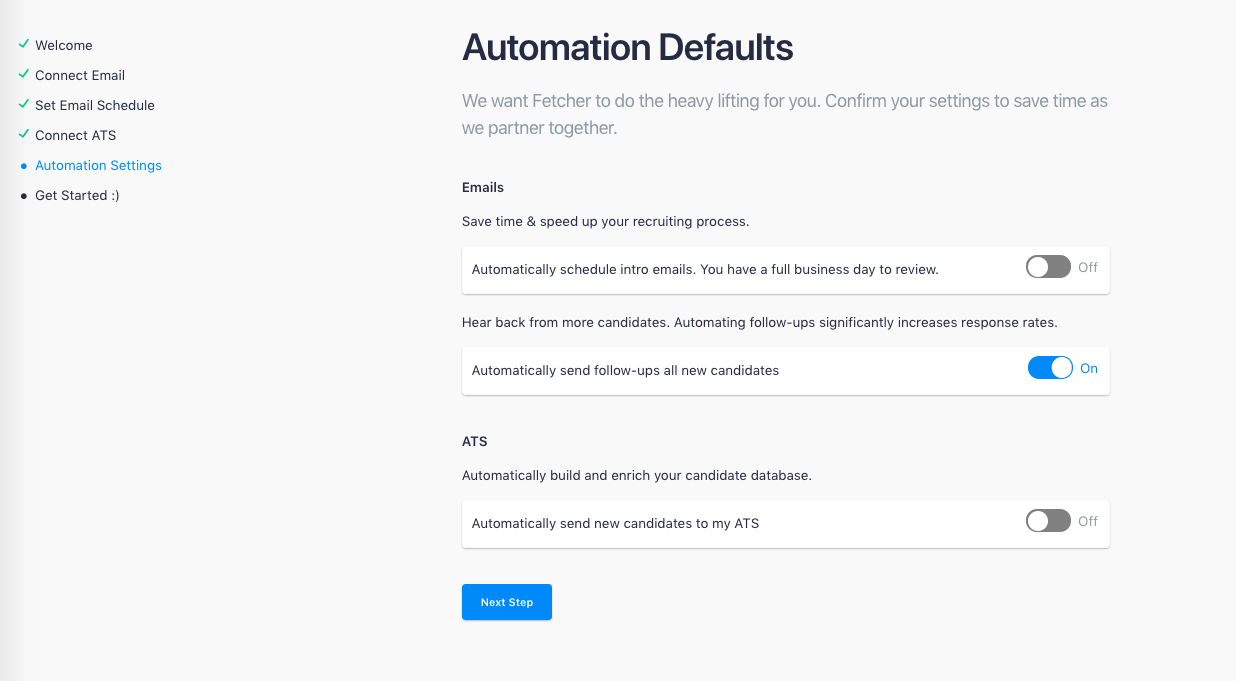 There are three things we can automate for you:
Scheduling people to be contacted
Following up
Sending people to your ATS (if applicable)
Automatically contact people
We highly recommend keeping automatic scheduling off until after your first few batches. During the first few batches we will be using your feedback to hone in on your ideal lead profile. Once the search is calibrated then we suggest turning Auto-Schedule - this is where you'll gain some of the biggest time savings. We use it ourselves, and it is wonderful to only interact with emails from people that are interested in talking to you.
You have until your next scheduled outreach sequence to review candidates once they're added, and can cancel the emails for anyone you'd rather not reach out to - though once your search is properly calibrated, you'll likely never look back...
Automate your follow-ups
For best results, leave this set to "on" so that we'll automatically follow up on your behalf. Up to 50% percent of replies (sometimes even more) come in response to these follow-ups (and often these are positive, or they will offer a referral).
Automatically send people to your ATS
Switch this on if you have linked your ATS and want us to automatically send every lead over to your ATS.
And finally...
On the last screen (having clicked "Next step" one last time) you can set up a demo call, let us know some of your preferences, and move on to telling us whom you're looking for.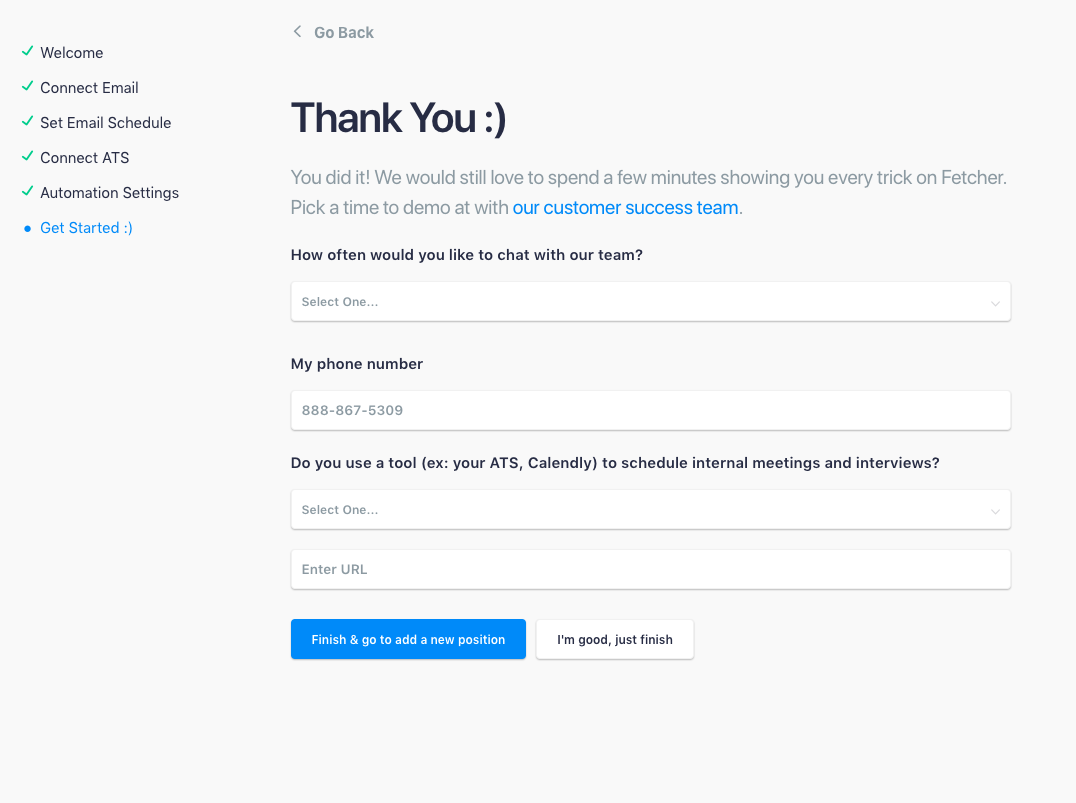 To tell us whom you're looking for, click on "Finish and add a new position", or if you're done for now, just click on "I'm good, just finish".
What to expect next?
Once you've added a new position, the next thing you'll get is an email from us with with our search criteria, and two or three sample profiles. If you want to make any changes to this, please do so by responding within one business day so we can incorporate the feedback in the first batch of candidates we'll send you (typically the day after).
---
---